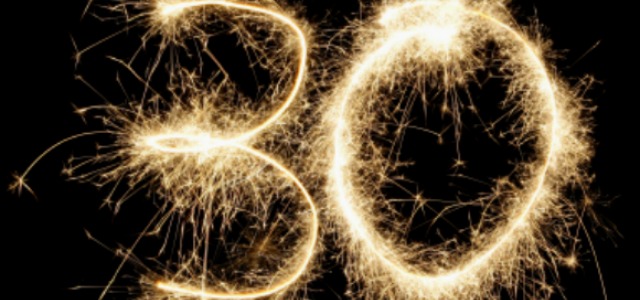 In a couple of weeks I turn 30, and I must say, I'm really looking forward to it. It means goodbye to the 'what the hell am I doing with my life' theme of my 20's and hello to achieving goals, making plans and putting all the lessons I've learnt so far to use. I'm sure a lot of people would agree that during your early 20's you don't really have any idea about anything, and that was definitely true for me! While I was independent and driven to follow my dreams, I didn't have the knowledge or experience to know how to go after them and make them a reality.
The defining moment for me in the last 10 years would have to be moving to the other side of the world. It's pretty much made me everything I am today. During this time I've tried many jobs, travelled to over 25 countries, learnt how to be good with money and most of all, learnt to be true to myself – and I couldn't be more thankful! So apart from the obvious lesson I've just divulged (TRAVEL!) here are 30 more that I've learnt in my first 30 years…and here's to hopefully learning many more in the next 30!
Most of the time, it's not personal
If it's important, get it out of the way first
It takes a lot longer than 21 days to form a habit
You are not supposed to feel motivated 100% of the time
You should always treat others how you would like to be treated, but know that sometimes you won't always get the same in return
You don't have to look like a fitness model to be fit and strong
Money may make you happy in the short term, but it's not conducive to long term contentment
Balance is hard
You should always celebrate your successes, but embrace your failures too – both will help you be successful in the future
Love isn't always enough to make a relationship work
Until the age of 25 you will probably have no idea what you are doing with your life, and that's OK
Get enough sleep
It's OK to be different to everyone else, and as you get older this will get easier
Most responsible thoughts will disappear after 3 drinks
Hangovers get harder every year after the age of 25
Prepare for things to not go to plan 90% of the time
Just because you believe something should happen, it doesn't mean it will
Most of the time, the only person who knows what's best for you, is you…but don't be stubborn if you know you are wrong
A good relationship should be a balance of ease and effort
Friendships change, but it doesn't mean you are any less friends because of it
If you don't like something, change it
Good flatmates are hard to find
Learn to laugh at yourself
Never let perfect get in the way of good
You probably won't discover what it is you want to do with your life until you are in your late 20's, or even later
Change is a good thing most of the time
When you make a decision, trust yourself
You don't need a lot of possessions to live happily or healthily
Not being true to yourself and your dreams or passions will catch up with you eventually
You will ignore all of the above at many times in your life, and that's OK (see number 23).
What are your most valued lessons in life?