Marrakech is one crazy city. Some hate it, some love it. I'm definitely from the latter camp. I spent a couple of days here recently and was shocked by the stark contrast between the down and dirty souks brimming with locals going about their day to day, and the luxurious 5 star hotels, within metres from one another. The city never sleeps either – day or night you can wander the streets and feel safe (even as a single woman as I did), and while the attention you will get from being a tourist takes a little getting used to, it's a fun way to interact with the locals and have a laugh. The Western phrases and names they seem to pick up on are hilarious – within my stay some of the gems included 'Hello Lady Diana!' 'See you later alligator!' and 'Your mum works at McDonalds!' Yes, really.
The city really does leave a lasting impression on you for all this wackiness – and from the moment you step outside the airport you are greeted with not only searing humid heat but seemingly hundreds of local taxi drivers who all proclaim to offer you 'best price' – a term you will affectionately come to realise by the end of your stay really means 'absolute rip-off tourist price'.
With absolutely no disrespect to the Moroccan people, you really need to be on your A game the moment you arrive in Marrakech, as everyone and anyone will have a go at ripping you off. If you have a sense of humour though, you'll be fine – during my few days there I learnt to be firm without being rude, and if you can have a laugh with the locals I think they are almost as happy as if they had actually gotten you to pay 5 times the normal price for the cab ride anyway.
So, if you ever find yourself in this city of the weird and wonderful I have put together a guide of the must-do things to add to your itinerary. Most people spend a couple of weeks touring around Morocco, and I would say that anywhere between 2-5 days would be enough time to see the main sights in Marrakech itself.
Day 1
Jamaa el Fna Square
Once you've survived the taxi ride from the airport (Seatbelt?! What seatbelt?!) head straight to Marrakech's main tourist attraction, Jamaa el Fna square. Here you will pretty much find anything you could ever want or need…jewelery, clothing, spices, homewares, food and lots more. If you have a hankering for getting a tooth pulled out, holding a money or snake, or getting a henna tattoo, you can easily and cheaply do all of those things here.
Wander through the souks and sample the Moroccan pastries, then find a spot to rest and get a sore neck from all the people-watching…there are so many local people rushing about, and equally as many resting at the side of the road chatting with friends, drinking some delicious Moroccan mint tea and generally enjoying the day – like these men below who thought I was hilarious asking them for a photo, they said I had made their day! (nb – Always ask before taking photos of locals as some Moroccan people believe that the camera flash casts a bad omen on their souls, so always be respectful!)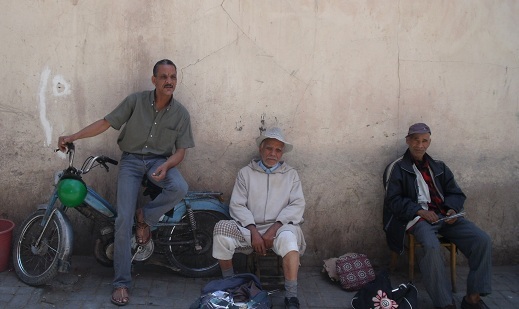 Relax in a Moroccan Bar
Once you're all souk-ed out you're probably in need of a refreshing drink, and as Morocco is a Muslim country finding one is no small task! There are loads of bars serving tea all over the city so if you're not too fussed on finding alcohol head to one of the bars overlooking the main part of the square for some of the best couscous and mint tea you'll ever taste! If you fancy a touch of luxury, grab a taxi to Le Comptior Darna, a den-like plush bar and restaurant serving delicious cocktails and Moroccan food – just make sure you stay into the evening as after 8pm the belly dancers come out!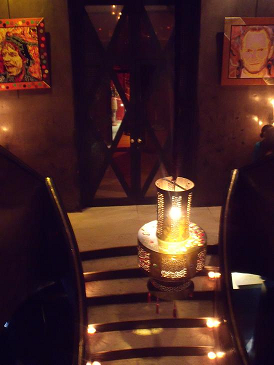 Day 2
Majorelle Garden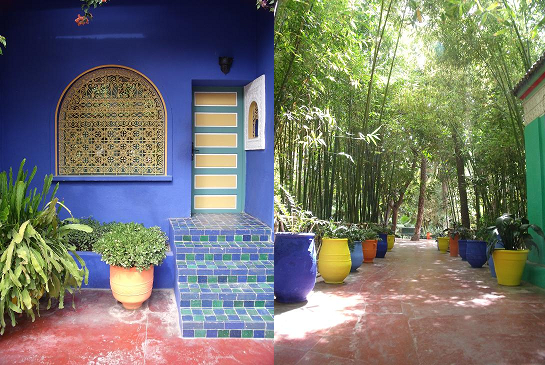 If you're suffering from too many cocktails the night before the Majorelle Garden is the perfect sanctuary. Owned by Yves Saint Laurent up until his death in 2008 the garden now houses a memorial to the late fashion designer and is home to more than 15 species of birds found only in North Africa. The garden is well-known around the world for it's bright colours, in particular the cobalt blue which was used extensively by the garden's designer, French designer Jacques Majorelle who finished the garden in 1924.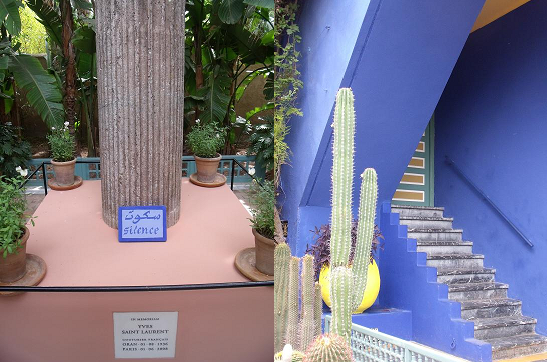 Marrakech New Town
Once you're feeling all zen-like after your garden visit, head to Marrakech's 'New Town' which is a short walk from the gardens, and is home to cafes, shops and many traditional 'Hammam's' where you can grab some lunch or relax with a Moroccan massage. The new town is a buzzing metropolis of modern buildings and 24/7 traffic – and they even have a McDonalds! You will definitely see ta huge difference to the souks of the Old Town, but both are very much Marrakech in their own way.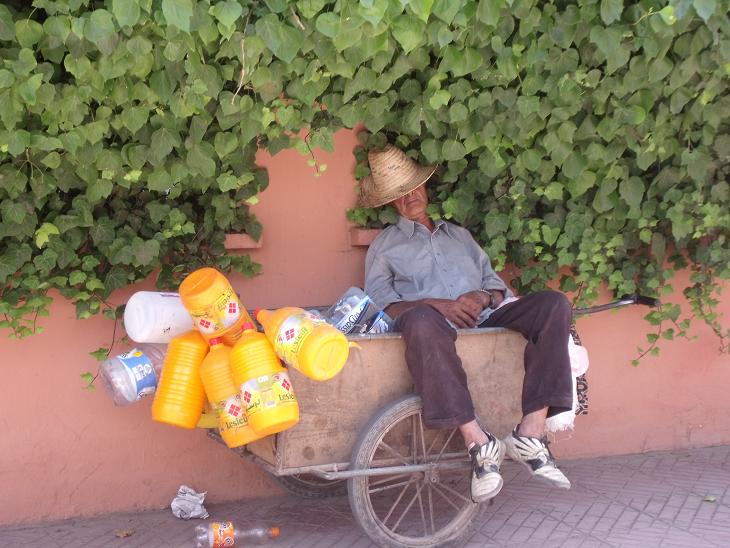 Visit the Jamaa el Fna Square By Night
On your last evening in Marrakech you should definitely check out Jamaa el Fna Square by night – the main square turns into a street food extravaganza, with each stall sending out their most charismatic waiters to try and tempt you in to sample their food. It can be quite overwhelming to say the least so be prepared! It's worth doing a lap or two before you decide on somewhere – there's pretty much enough food varieties to satisfy any craving!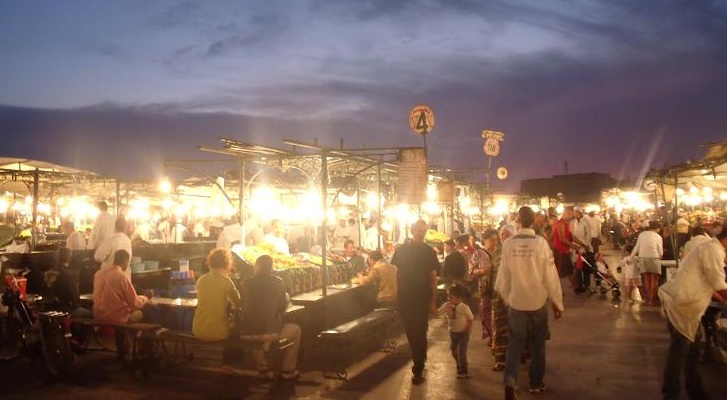 (nb – be careful with your bags at the square at night as there are pickpocketing rings operating to try to distract you while one of their mates runs off with your bag – so be careful!)
In my opinion these are the main things you should see if you only have a couple of days to spend in Marrakech. You'll get a flavour for the people, the crazy souk stalls and the food, and hopefully you will enjoy your stay as much as I did, even if you do happen to fall for the 'tourist prices'!
Previous Post – Why You Shouldn't Be Scared Of Solo Travel
Next Post – Photo Of The Week – Nambucca Heads, Australia