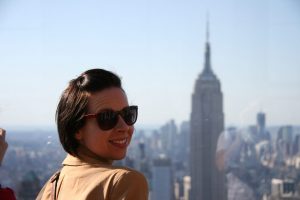 Hi and welcome to the start of your Project: Life! This site is all about inspiring people to follow their passions, live their dreams and to say goodbye to monotony, apathy and 'settling' for good!
Whether your dream is to move abroad, start a business or just be happier, this site provide loads of inspiration and stories of people out there living their dreams, so there's no excuse to not start living yours!
The site is written by me, Nicole, and in it I share my experiences of going from an unhappy and apathetic rat race office worker, to discovering my passions and making them a reality.
If you are serious about changing your life then please subscribe to my receive my posts straight to your inbox – I promise I'll only send you interesting, relevant content and never spam – and you can unsubscribe at any time.
Alternatively, you can also subscribe to my RSS feed as well as follow me on Twitter and become a fan on Facebook. Please come say Hi and tell me how you are going with your goals – I'd love to hear from you!
In the words of the very wise Ferris Bueller, 'Life moves pretty fast. If you don't stop and look around once in a while, you could miss it.' So what are you waiting for?!
About Nicole
At 22, I quit my job in Melbourne and with less than $2000 in my bank account moved to a small island on the south coast of the UK to work with kids in a summer camp.  I had with me one extremely full backpack and barely any friends within a 10,000 mile radius, but it was one of the most exhilarating and liberating things I've ever done. I didn't know what I was doing, but I did know that I couldn't keep living the ordinary existence I had been, and that something had to change.
Since then, I've been on a journey to discovering what it is that I'm supposed to do with my life, and have set about making it happen. In the last 3 years I have:
Worked in 4 jobs, all of which have helped me realise what I DON'T want to do
Paid off $5,000 in debt
Run a marathon
Doubled my income
Completed a Diploma in Interior Design
Visited 19 countries
Started this blog
Collected over 500 business cards
Bought and renovated 4 properties
Read endless numbers of motivational, self-help and business books
Learned how to be good with money
Worked some 20 hour days, and some 2 hour days
Overhauled my health, fitness and diet
Wrote the manuscript for a cook book
Stopped binge-drinking
Volunteered at a Business school
Saved and invested over $50,000
Thought I was going to lose it all after a particularly stressful and complicated project
Sold most of my possessions and learned to live more simply
Realised you don't need a lot of money to be happy
Found my passion after what felt like a lifetime of apathy
And…most importantly:
Made LOADS of mistakes….but learnt from every one of them!
I'm not here to brag about all the things I've done – on the contrary – I want to show you that in just the space of a few years you can turn your life around and become the person you want to be. At 22, I was in debt, didn't know who I was or what I wanted, didn't look after myself and couldn't commit to anything. Now, as I approach 30, I feel like a completely different person, sure, it's all part of growing up, but a large part of it is just believing you can change, and going out there and doing it.
I've finally found my passions (travel, helping others find their calling, and business), and have gone from an unhealthy, cluttered consumer to someone who doesn't need a lot to be happy, and has gotten rid of most of her possessions. One of the most important things I've learnt over the past year is that material possessions won't make you truly happy, only what you DO and BE can.
It's really not rocket science – and clichés aside, you literally can do anything you want with your life! REALLY! Who's stopping you?
It feels like everyone I speak to these days is unhappy in their jobs, or wants to make a change with something in their life, so I want to let people know that they can – You just have to find the motivation inside yourself to get a plan together and work towards it – it's really quite simple!
Sure life, money, kids or age might seem like respectable excuses, but answer me this – If you looked back at your current life when you're 80, what would you feel? If your answer is anything resembling regret or guilt, then you owe it to yourself to start living a more fulfilling life, and to find and follow your calling, before it's too late.
At the end of the day, which team do you want to be on – the one that is proud, or the one who regrets? You decide!
If you're ready to get started on your Project: Life, then click here for everything you need to know about finding and following your passion.