They say that moving house is the most stressful situation you can impose upon yourself, and when that move also includes another country it can feel a little overwhelming to say the least! When I moved abroad to London from Australia back in 2006 I felt like there were a million things to do in a very short time frame, and there was nothing that helped me more than a good old fashioned list!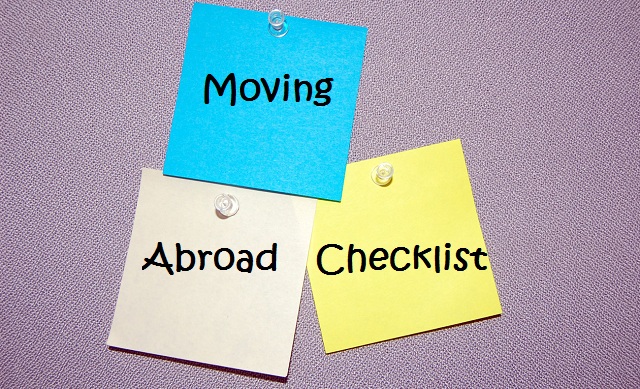 Here's my thorough Moving Abroad Checklist!
12-3 Months Before You Leave
Start to de-clutter your life. Throw out things you don't use or wear and resist the temptation to buy new things – no, you don't need that collection of 110 steak knives that cut through cans.
If you require a removalist, start getting quotes early to find the best deal.
If you are flying to your new home shop around for a cheap airfare with a carrier that allows a decent luggage allowance. Call them up and see if you can negotiate any flexibility. If you have a lot of luggage it may end up cheaper to fly business class, so take this into account when searching for fares.
Apply for any necessary visas or permits required for your move.
If you have a car, or pets start planning what you're going to do with them when you leave. Yes, if you have children you will have to take them with you.
Start reading about your destination and figuring out where you might like to live, as well as the best places to party and hang with all the cool people.
2 Months Before You Leave
If you have not yet found a house of flat to live in when you arrive, book a hotel/hostel for a few days to help you find your feet.
Confirm your removal with removal company, if required.
Have a garage sale, get selling on eBay or just throw it out – now it's time to start being ruthless with that embarrassing 80's record collection!
Resign from your job in a spectacular fashion, depending on your relationship with your boss. Don't burn too many bridges though, you never know when you'll be back!
Visit your doctor and get any necessary prescriptions or vaccinations before your move.
Purchase travel insurance for your trip, and depending on your destination, for the length of your stay in your new country.
1 Month Before You Leave
Arrange for a postal re-direction service to a relatives address, or your new address, if known.
Contact everyone you know to let them know you're leaving and that they better come to your going away party!
Throw a massive going away party, give an impromptu drunken speech and generally make a fool of yourself – it doesn't matter, pretty soon you'll be outta there!
Start packing – throw what you know you don't need, and put any documents and all you're taking with you to one side.
Cancel your bills and any monthly direct debits.
Notify your bank that you're leaving. If you pay hefty monthly fees you may want to consider closing it until you return.
Double check you have all the documents you need and ensure they are in a safe place until your departure.
1 Week Before You Leave
Book a cleaner for the day before you leave if you have new tenants moving in.
Eat whatever food you have left, and the rest feed to your (lucky) dog or give to a friend.
Order any foreign currency/travellers cheques, if required.
Do some last minute washing so all of your clothes are clean for the big moving day.
Pack your suitcases and whatever's going with you, and do the obligatory check and re-check 50 times before you leave.
1 Day Before You Leave
Confirm your flight and check in.
Double check your luggage to make sure you haven't forgotten anything.
Order a taxi to the airport, or any transfers needed.
Relax, put your feet up and crack some bubbly – you've almost made it!
Leaving Day
Celebrate, you're MOVING ABROAD today!!!!
Previous Post – Redundancy: Friend Or Foe?
Next Post – Getting Lost In Melbourne's Laneways