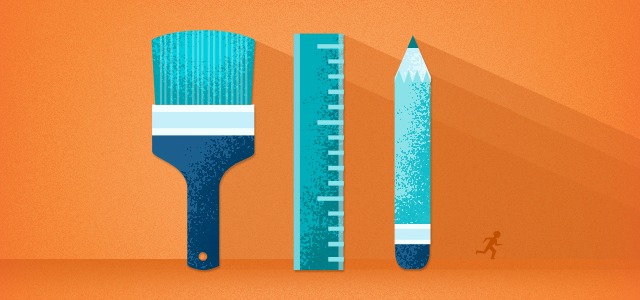 I have to admit, the start of the second month of my Happiness Project didn't go exactly to plan. I spent the first month so focused on de-stressing and de-cluttering, that after it ended, I needed a couple of weeks to clear my head to prepare for the next phase of happiness. I didn't really know what I wanted to focus on straight away, so I decided to live by one of my life rules (Don't let perfect get in the way of good) and let myself breathe for a week or so to find my inspiration again.
And sure enough, it came flooding back only after a few days! This was a massive lesson and source of happiness in itself – I've learnt recently that it's OK to not feel motivated all the time, and to give yourself a break when sluggishness strikes. I used to feel like I had to be learning/reaching/focused 100% of the time, but I know know that not only is that not realistic, but it doesn't allow for your best work. After all, running at 100%, 60% of the time is better than running at 60%, 100% of the time, isn't it?
So, Month Two was all about being creative. This is a funny one for me, as I chose to follow a very non-creative career path back at Uni (Biomedical Science) but in the last couple of years everything I've focused on has been in a creative field. As I get older I definitely find myself leaning towards being creative than anything in the scientific world – and in fact, I sometimes feel like my day job stifles some of this creativity, so I decided to reignite it once again.
My goals for the month were:
Cook something different or new – I LOVE to cook. Our kitchen often resembles a commercial kitchen from either myself or one of my housemates new culinary inventions, and 70% of the TV we watch in our house has to do with food! So, instead of falling into the trap of cooking the same old things, I decided to be extra creative this month and try to make a few things I've never made before. This wasn't possible every day, but I did come up with some dishes I will be adding into the rotation from now on – and this is something I will definitely try to keep going in the next few weeks.
Learn how to use Photoshop Elements – This has been a pain point of mine for a while now, and I have to admit is a work in progress! I've been procrastinating installing this on my laptop for ages, so I finally decided to bite the bullet and do it! Little did I know I'd be getting a new work laptop straight after, so this one is set for completion within the next month hopefully! I have started reading the guide to using it though, so I'm hoping I'll be a pro in no time!
Write fiction – I don't know why I found this one so intimidating! If I had my time over again at Uni I would study business and creative writing, and it's sometimes a regret of mine that I didn't spend more time following my writing passion when I was younger. But its never too late right?! The whole thing scared the hell out of me because not only do I not read fiction, I haven't written a word of fiction for at least 5 years! But what better time to learn, so I decided to push myself and write whenever I felt like it. Not an easy feat when you don't feel great about what you're writing, but you will see from my last goal below how I overcame that! Currently I have a little story going that I'm adding to every now and then, so I look forward to writing some more as and when the inspiration takes me.
Take a class/learn something – I wrote down all of the things that I'd like to learn how to do or to develop myself in, and it was surprising! I straight away enrolled in a couple of online courses for giving great interviews, starting a business and also in creative writing. And other than courses, I made it my goal to discover a new blog or website every day – this was a lot of fun, and I learnt so much! Another thing I did was set my homepage to Wikipedia random page every day (to learn how to do this, click here) which was a fun way to learn new random facts. (If anyone needs to know about the New Zealand Attorney-General, I'm your girl!)
Keep a one sentence journal – This one was taken from the Happiness Project book itself and I really wanted to try it. I feel like so much of life just whooshes past and apart from the occasional facebook post or picture album, we don't really document the day to day enough. So, at the end of every day, I wrote just one sentence about my day – whether it was how I was feeling, what I got up to, or if a funny quote or thing stood out to me. I think this is something small we can all do to document our lives, and its definitely a task I will keep up in the future.
Design a Christmas present – For a couple of years now I've been wanting to use some of my travel photos from around the world to create gifts for my family back in Australia. I've put off doing it for some reason, but not this year! This is basically the purpose of learning to use Photoshop Elements rather than the online editing software I usually use (Pic Monkey – they are great and easy to use FYI, but I wanted to really push myself to learn to use PE!) to create some great effects and make my photos really stand out. So far I have a couple of photos ready to use, but this is an ongoing process I will wrap up in the next few weeks in time for the Christmas post. This has really got me thinking about creating more personal and meaningful gifts, so I'm going to think about what else I could do for next year.
Create something – I am happy to say that every day during this month I created something new – whether it was writing, taking notes for a business or investing idea, cooking a meal, using Pinterest, or editing some of my best photos.
Forget about results – This helped me with the rest of my goals above, as there were often times I found myself not wanting to write because I didn't feel like I had anything good to say. Telling myself to forget about results every day really helped me to enjoy things for the sake of enjoying them, and it reminded me that not everything we enjoy needs to have a purpose, or to be used as a tool to get ahead in life. We should protect these things and relish in them being a safe haven away from the stress of all of the other things we have to do in our daily lives.
The last point was probably the most poignant for me through out the month, and it probably ties in with trying to let go of the need to do something 'perfect' all the time. I found this really liberating to say when I felt like I shouldn't do something, and most times I found myself just doing something for the sake of enjoying it, and not thinking or worrying about the end result. I urge you to try this one at home – you will be surprised how good it feels!
So that's it for Month Two! I'm feeling really proud of what I have accomplished so far, and at risk of being overly cliched, I am feeling pretty damn happy! I haven't yet decided on what Month Three's theme will be, but as it's my birthday this weekend (The big one…30 – eek!) I'm going to enjoy the festivities and relax for a few days before launching into my next month. (That and I will probably need a few extra days to get over the hangover, now I'm the wrong side of 30!)
Until then, I'd love to hear your thoughts below on how you are creative in your daily life, or how you would like to be in the future! Thanks!