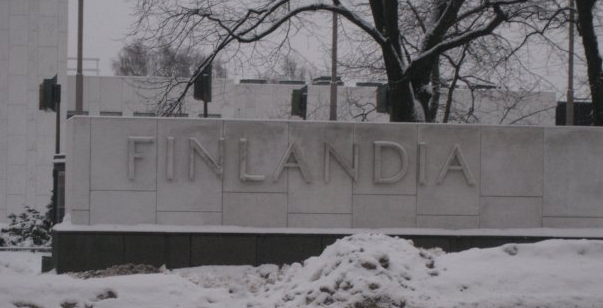 If you had've told me when I was little that one of my favourite activities as an adult would be jumping into a frozen lake through a hole cut in the snow, I probably would have kicked you in the shins.  So, fast forward a couple of decades and I find myself in Helsinki in the depths of winter contemplating this very feat.
Crazy? You betcha! Stupid, I have no doubt. But it was one of the most heart-pounding and adrenaline-fuelling experiences of my life! And the Danes, Finns and Swedes can't all be wrong –they've been jumping into icy lakes for over 100 years. But it's in Finland where ice swimming, or Avantouinti is akin to their national sport, with clubs all over the country offering access to their frozen lakes and rivers as well as piping hot saunas in which to thaw your frozen limbs and prepare yourself for your next dip.  This tradition of rapid cooling and warming is considered to have multiple health benefits by the Finns, and I must say I did feel incredibly alert and refreshed after my first Avantouinti experience. It's also thought to keep colds and flu away – something which I must admit I baulked at to begin with, but was left eating my words weeks later when I still hadn't succumbed to even a sniffle all winter.
There are numerous places in Helsinki where you can have a traditional Finnish sauna, but if it's the all out craziness of ice swimming you want then you'll need to head to the Rastila Camping Centre, one of the country's largest camping grounds located in the Eastern Helsinki suburb of Vuosaari,  a short subway ride from the city centre. The ice swimming season runs from October to April, and there's no need to book – just turn up with your swimsuit and towel (and a few hundred layers of clothing for afterwards), pay your 6 Euros and you're away!
One you arrive at Rastila you are lead down to a log cabin on the edge of a frozen river, ready to undress and await the impending  snow-dash to the river around 50 metres away. The sauna is mixed, but there's separate men's and women's change rooms, and thankfully all are toasty warm, and they even provide lockers free of charge and hair dryers for drying off post-swim.
I managed two 'rounds' of sauna and ice-plunging and was pretty chuffed with myself…The cold is enough to take your breath away as you thrust your unsuspecting body into the water, but I was actually more shocked how hot the saunas were, it was almost more intolerable than the ice, and the locals kept throwing more and more water onto the coals which I couldn't work out was for their own benefit or to drive out the tourists!  It worked anyway – After one last sauna I was done and completely invigorated  – and not at all shivery as I'd feared.
As I walked from the cabin and back to the subway all toasty and warm, I was soon played the trump card by a group of men sitting around in nothing but shorts, playing cards in the snow, calm as you like, as if it was the middle of summer and not a blistery -20 degrees. I gave them a look that could only be described as 'WTF?!' and couldn't help but laugh…only in Finland!
Previous Post – Are You Ready To Move Abroad?
Next Post – How We, As Travellers, Can Help Natural Disaster Victims